Reds Advertising - Designers and Builders of Exhibition Stands
Reds Advertising has over 19 years of experience and is a
one-stop solution to design and build your exhibition stand.
Let Reds Exhibitions Design & Build Your Wow Stand!
Our Experience – 19 years of building WOW stands
Reds Exhibitions has been designing and building exhibition stands in South Africa since 2002. Reds specialise in creating designs, manufacture and installation of custom, system, modular and portable stands.
We have built many stands over the years from system stands to stretch sets and large custom-designed stands.
One of the stands we designed and built was for the Golden Era Group of Companies at the Labels for Africa Show 2003. Now 17 years later we are still building stands for them, the last one being for Propak 2019.
Creative Design Services
We offer a design service where we create custom-designed graphics made print ready for all sorts of physical or digital products and venues, including:
• Exhibition designed artwork for back walls, fabric graphic backdrops, stretch sets etc.
• Digital art for touch screen and holographic images.
• Eventing and display products.
• Branding/identity packages.
• Brochure, flyer poster design
• Digital art for social media, newsletters and mailers, animated billboards.
• Stationery/paper goods. Large format.
• Home goods/accessories.
• Vector artwork for Gifts and Clothing
• Corporate Giveaways for exhibitions
Shop Fitting
We handle shop fitting as well. This is a specialised field and the finishing of each cupboard, table or shelving must be of extremely high quality as the fittings must last for years.
Demo and Eventing Tables
We also supply demo and eventing tables branded to your specific product or service will full-colour graphics on the sides, header and working tops for the tables. These tables are portable, easy to install and dismantle. They are excellent for sales promotion in malls and shopping centres.
Reds Shell Scheme for hire
Reds will provide shell scheme stands for your next event, exhibition or conference. The shell scheme packages come with flooring (carpet or raised floor) electrical fittings and furniture to hire. We can supply in design shape or size for example 2×2. 3×2. 3×3. 4×3. 5×3. 6×3. 7×3. 8×3 sqm, corner, U or island shape packages.
3D CAD Design
Reds Exhibitions utilizes the best 3DCad stand designers with the result that you will receive designs that are the latest and foremost designs on the planet. There is no limit to our capabilities.
We design the stand to your budget therefore you will get the best solution for the Rand.
We are experienced in supplying you with a design that suits your objectives the first time.
We don't just supply one design. We supply a few, which saves you the hassle of sourcing exhibition stand builders.
Stand Builders
We only use the best stand builders in South Africa. We subcontract them to do the work with our experienced team overseeing the manufacturing process and installation from the first carpet tile laid to the completed stand.
You are ensured of a hassle-free experience, thereby using your time more expediently. View our Design Portfolio
Our Approach to Designing & Building your Exhibition Stand...
Creative brief
We meet with you to work together to diverse ways to design and build your stand. There are many ways to do so. Options include:
Portable Stand
A portable stand that is lightweight and easy to install. This is usually using fabric banner walls that can be adjusted to suit your specific requirements such as shelves and TV monitors.
Modular Stand
A modular stand that you can add on to in the future. This can be a twist and lock system, using the Octonorm system or fabric banner walls. You can configure to any design shape you require.
System stand
You could hire out our Octonorm system using the sections, frames, and poles to build a modern-looking stand. See the Golden Era Stand as an example.
Custom stand
Or we can design and build you a WOW custom-designed stand that highlights your products or services to their best advantage. See the Sitetech stand.
Presentation for renderings
We will make an appointment to present you with renderings of the designed stand for your approval. Feel free to make any changes you feel necessary. Once approved, we start manufacturing the stand and when completed, we install it at the exhibition venue. We complete the project and hand over the stand to you the day before the exhibition starts.
When the exhibition is over, we break down the stand and hand over any graphics that you may want to keep after the show.
Your time is valuable – let the experts manage your stand.
Rendering of Sitech Stand 4 x 10 sq metres
Golden Era Exhibition Stand Rendering of 11 x 22 sq metre stand
Golden Era Printers – Labels for Africa 2003 Exhibition
Golden Era Group of Companies. – Propak 2019 – Showcasing 8 separate companies
Why Use Us? What are the benefits?
19 years of experience
Same clients year after year
Only the best 3D CAD designers
Innovative in design
We can design and build any type of stand/booth
No limitations to your stand, anything goes!
We use the latest innovative stand building techniques.
Only use the best stand builders
Proven record of accomplishment
We manage the stand from the first carpet laid to hand over of completed stand
Hassle-Free your time preserved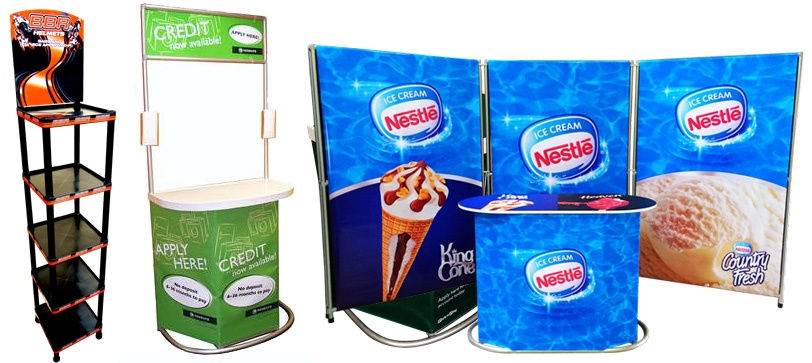 Eventing and demo tables with full colour graphics. Excellent for sales promtion in malls and shopping centres
Why leading companies choose to work with us?

Hi Gavin
Thank you so much, I love it. It looks very professional
Kind regards
Some of our Clients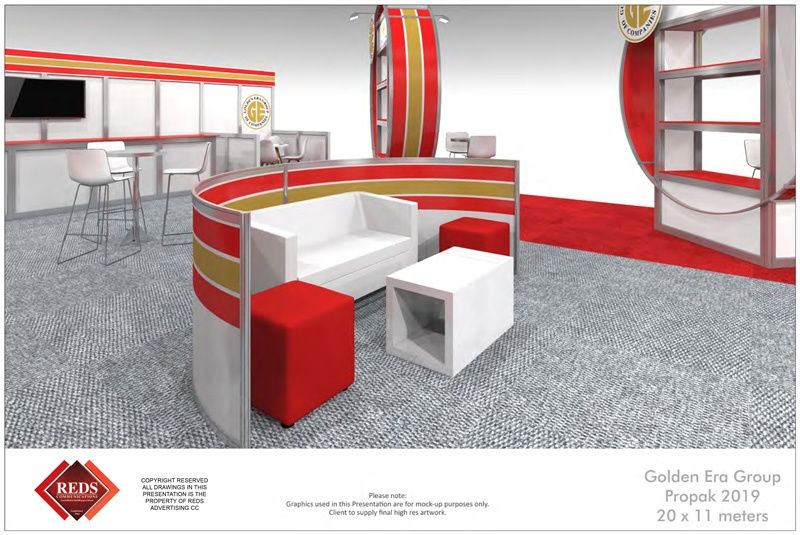 Golden Era Exhibition Stand rendering of 11 x 22 sq metre – inside the stand
Are you ready to order our Exhibition Design and Building Services?
Our Exhibition Design and Building Services are in high demand, so please contact us without delay. Let's discuss how we can help you?